Traditional –Vintage Wedding Hair Style My way
Posted on
What do you see?
Who says you cannot have a super traditional hairstyle even when you are having a modern wedding? I say yes you can. You just need to find out more about the possible options that are there for you. There are thousands of ideas that you can pinch from all sorts of eras to make something just for you. Some people have the perfect hair for this type of hairstyling without even knowing it. Imagination from an experienced hair stylist is what you will be looking for if you dare to have a traditional wedding.

For this entry, I met Sarah the bride to be on one sunny afternoon in Cheltenham. She was getting married in the Cotswolds and she was marrying her childhood sweet heart. All her wedding planning was being done by her with such tenderness and full of romance. After a quick chat with her, I knew that her wedding hairstyle had to be a traditional one.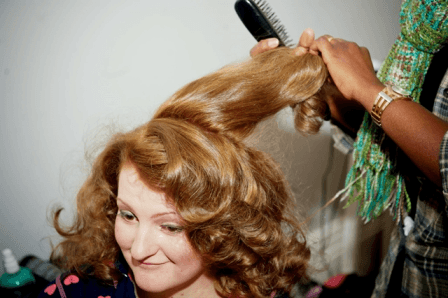 Then came the wedding day, it was yet again a sunny day bright blue sky and warm. As usual, it was an early start for us all. I had not met the bridesmaids before the wedding and so I was going to have to work from a blank page.

The bonus for me was they all had amazingly long beautiful hair. We started off with a high bun for them at the crown but that did not work out as it became too much of a messy bun. So after a quick discussion with Sarah the bride and the girls, we decided to change the hairstyles.
Usually, I am at my best when the bride leaves it to me to make the decisions regarding their wedding hairstyle. I know I can do crazy but beautiful hairstyles and so yes that is always highly exciting. But on this wedding day, I hadn't quite expected Sarah to say to me, "Sheena, regarding hairstyling do whatever you want. I and my bridesmaids are in your hands. We completely trust you."

My first initial thought was, panic, panic. Sheena panic! But then the second thought was calm down Sheena! Calm down now. You can do it! And yes I can. Of course I can. I have been a wedding hairstylist for such a long time that I should be immune to these sudden requests. Yes, yes I should act like oh yeah, that is piece of cake at all times! But hey but don't forget that I am only human and human reaction is sometimes unpredictable. These situations need a very calm strong mind to deal with them.


Not to forget that I was at the beginning of a nasty cold and that had taken control of my body but luckily not my mind. Adrenaline was charging up fast and my mind was seeing lots of ideas in flashes of seconds and minutes. The small voice within my head was still telling me to take full control calmly. It was simple. All my hands had to do was follow exactly what my mind was telling them to do. And on the outside, my goodness was I calm?

Yes of course I was! I was able to command calmness around me quicker than the time it would take you to define the meaning of calmness. That was me. I was especially calm on that morning. My brain was in command and my hands were doing the work like crazy and then, BANG! 5hours later, everyone`s wedding hairstyles were done and there I had managed to complete these magnificent hairstyles! Created and done to absolute perfection!


Must I say it myself? How cheeky don't you think? But why not? I was very proud of that day and yeah!! I was ecstatic. If you love what you do, then you too surely must go through some instances like these? Don`t you? The moment for me was when Sarah the bride Said with this huge beaming smile on her face. "Sheena, thank you so much! All the girls look beautiful and I love my hairstyle!" That was it. That is all I wanted.

The day was done and everyone was happy what more did I want? I had a nasty cold on that morning and you know at that moment, I felt as alive as anything. It was just like I could feel this massive energy from nowhere! My mind was still running like a machine and no one could stop me! My heart was singing loudly. I do love my job! It is such moments that define my work. The obsession, perfection, adrenaline, craziness, laughter, and sometimes, tears of joy and happiness are some of the things that drive me.

A few days later, I had this wonderful message from Sarah saying, "Sheena, thank you so so much for all your hard work on Friday you were absolutely amazing! Everyone there complemented the hair the whole time!! ….Thanks again for making the day extra amazing you are a true artist." I however would like to tell Sarah, how thankful I am to her for allowing me to do whatever I wanted on her wedding day! These fantastic wedding hairstyles would never have happened had she not allowed me to do whatever I wanted.

Thank you so much for trusting and believing in me. Thank you for the hospitality and for the care the girls showed me when the cold took over my body. When I got home on that day, I cuddled up to my hot water bottle and that night, I slept like a baby until my alarm clock woke me up for the next day wedding! Thanks a million times.


Without these wonderful professionals, all would have been lost. You wouldn't have been able to see how coordination can be a great tool in making your wedding day run smoothly. I would like also like to especially thank Emily Tarrant http://www.emilytarrantmakeup.com/who did the make up for all the girls on that day.

Emily is based in the Cotswolds and is an excellent makeup artist in her own right and she deserves more praise than I have given her here. Her wedding makeup work is under stated and I am glad to say that we are going to be seeing each other more often in the future.


I was running a little behind the scheduled time but Emily`s flexibility and patience really saved my day. On that day her work was done with such swiftness and perfection as you can see from the images. She has worked on a lot of shoots and with that kind of experience behind her it was no wonder she had such patience. For that Emily, many, many thanks. Your patience really saved my day.

I love these images of her at work. I have since worked with her on many other occasions so watch my blog for more examples of her work. In most cases, hair styles are hugely enhanced by how make up is done so thank you very much Emily. To view Emily`s profile and view more of Emily work, please contact her on 07887577606.


Massive thanks to the Wedding Photographer on this occasion too. All images on Sarah`s wedding day were taken by Greg and his Dad at http://weddingphotographerbirmingham.net/. Their company, Work Horse Weddings are based in in Birmingham and they serve the city and the West Midlands. They are specialists in wedding photography. They say they are extremely passionate about photography and they pride themselves on offering a friendly, flexible and cost-effective service.


I believe that their images say much more than that. From the few images I have seen of their work, it is not difficult to see why Sarah chose them especially to do the job. They too greatly love what they do. Greg says, I quote, "We treat our clients as friends and every image is taken to capture those special moments that you'll remember for the rest of your lives. Your wedding is the biggest day of your life and Workhorse Weddings will work with you to plan the style and essence of your photographs.

Workhorse Wedding believes that the bride is the star and we spend a great deal of time with her to ensure her wedding day is a joy and as relaxed as possible. Our wedding photography service will capture every important detail from your big day, getting to know you, your friends and family to ensure that your personalities shine through in the images we create. Workhorse Weddings are perfectionists and you can be sure that your wedding memories will be captured as stunning photography for you to cherish forever."