Michelle`s bridal-wedding hair style at St Audries park in Quatoxhead.
Posted on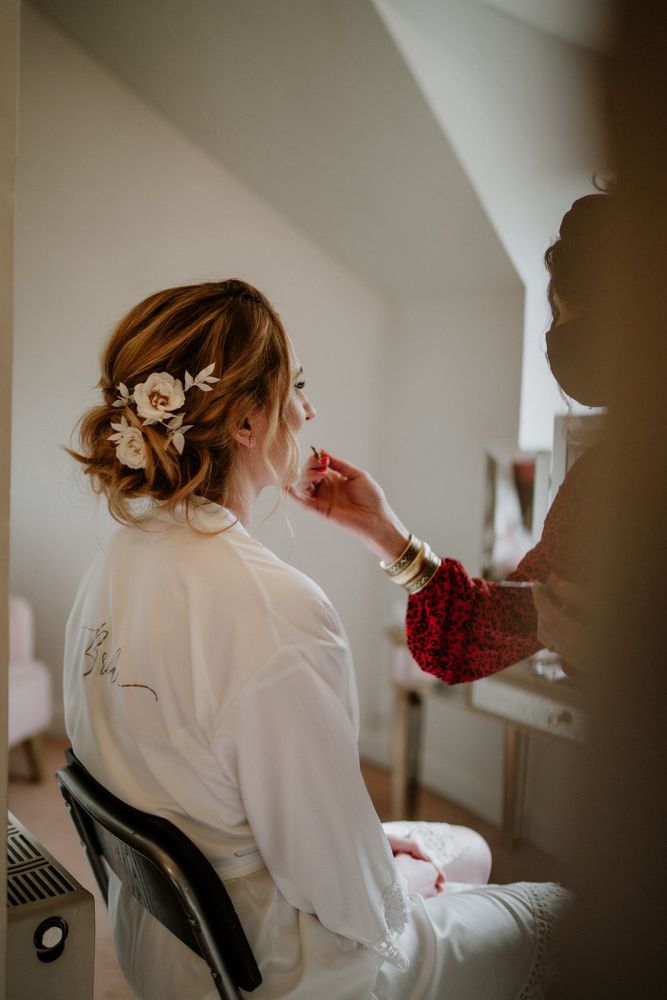 Back in May 2022, Michelle contacted me after a failed trial for her wedding day somewhere else. I was recommended to her by her make-up artist Elle Hitchens.
On contact to me, she requested for something relaxed with some twists, curls and no focused mass of hair, messy or relaxed to go with her ethereal and romantic wedding dress.
She had long hair but it was fine and she was worried about whether her hair would work well for her desired hair style.
On meeting her for the first time, we bonded almost immediately. The trial was perfect. She was happy and proceeded to confirm me for her bridal party.
A few months later after the wedding, she contacted me and shared an image with me to say how happy she was with her hair and even though it had been a rainy day, her hair had stayed in perfectly. She sent a wonderful review too!
She said, "Sheena is amazing! Both as a person and a hair stylist. She is very calm, organised and friendly. She took the time to learn what I liked and how my hair worked, asking questions to understand the style and my hair type in the trial before working on the styling. She arrived early on the day and made my bridesmaids and mother of the groom (Spanish speaking only) feel at ease and just as happy with their hair styles as I, the bride, did with mine. She was spot on, and had great conversation and common interests. I left inspired after the talks during my trial and she was a dream to share the bridal morning preparations with. Thank you Sheena! "
Special thanks to Michelle and Anderson for an image of her hair by her wedding photographer Anderson https://andersonphotography.org.uk/. Anderson was a pleasure to work with. You certainly won`t notice him in the room as he works away and his images are beautiful. Visit his site to view more of his work.
Hair wise, are you still searching for a mobile bridal hair stylist for your special occasion? Well get in touch. I look forward to hearing from you with your own hair visions. I am based in Cheltenham, Gloucestershire-UK but will be happy to travel further afield for your day. Thanks, Sheena.