Amy`s Wedding At Lower Slaughter Manor -Cotswolds-UK
Posted on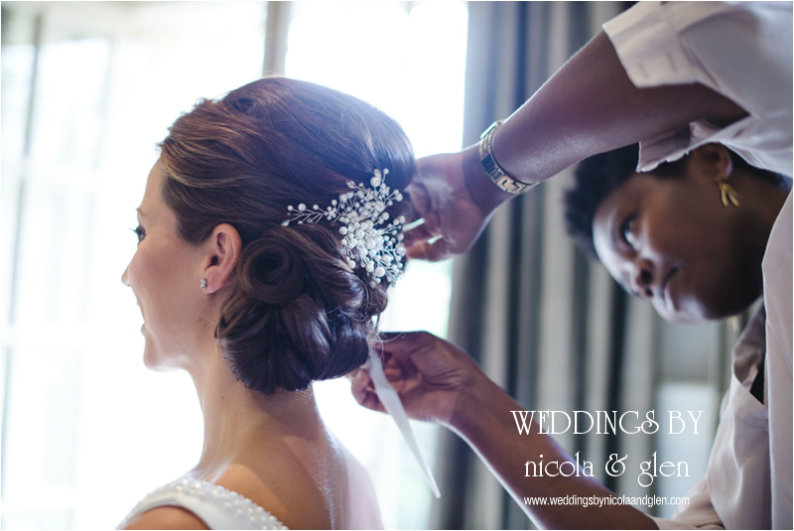 I am very proud to mention that bride amy was featured on Rock My Wedding. Read about that entry HERE

I asked my bride Amy how she wanted to see herself on her wedding day and her reply was "Elegant". She wanted the word elegant to be the one to describe her wedding style throughout the day. She had chosen the dress and the venue especially with that in mind. Hair wise, she knew how she wanted to look like from the front but had mixed feelings about how the back of her hair hairstyle should look like. So I took matters in own hands and created this fabulously beautiful hairstyle to suit her, her dress and wedding theme.

She still had a choice to say no to the style I created fro her as she had 2 other choices of trial hairstyles to choose from but after long thoughts on it, her doubts were settled and I was glad that she chose this one in the end. On the wedding day, a genuinely heartfelt thank you from her mum who was beaming with this huge smile confirmed that Amy was a happy bride. On the next day after her wedding, Amy sent me this beautiful email message which made me feel emotional.

"Hi Sheena!
Just a quick message to say THANK YOU for your wonderful hair styling on Saturday! I absolutely LOVED my hair, I had so many comments on it. It was just beautiful, and it stayed put all day and night, I even went to breakfast like that the next morning! In fact Ive only just brushed it all out this morning, ha ha. You were absolutely wonderful, calm and serene and you really made my wedding morning a lovely relaxed affair! Claire's hair looked fabulous too and it just suited the dress perfectly. I will send some professional pics once I have them, but for now have attached some iphone images! You can't see the hair too well, but the overall affect was just perfect".
Thanks Amy. It was an absolute pleasure. This is one of the other reasons why I love this job. When you get a comment like that how can you not be proud of your work?


A massive thanks to Amy and to the photographers Glen and Nicola who captured the beauty of the style so well for sharing their images with me. You can see the whole blog entry by following the link http://www.weddingsbynicolaandglen.com/blog/fine-art-cotswold-wedding-photographer-amy-ian/ I had not met Glen and Nicola before but having had a look at their website, I know that they have shot another one of my weddings which is yet to be blogged here. Keep your eyes open for that.