Jessica`s Wedding At Birtsmorton Court-UK
Posted on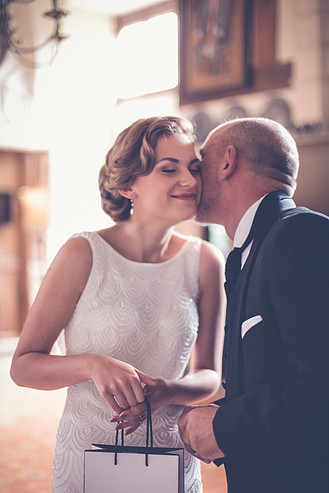 Jessica`s wedding appointment was one of those short notice ones. We had less than 3 months before the wedding day and we were struggling with trial dates to suit both of us. The option left to us was to go without a trial.
Through emails, and in simple terms Jessica was very clear on what she didn't want….., "I have very particular likes but more importantly dislikes about wedding hair…..mostly tight GHD curls, that slick look, too much heavy hairspray, messy trailing things, SIDE DOS! I hope I've portrayed the things I hate. I hope to be transformed from bare bum to stunner!"


Jessica had naturally curly hair. She was going to be wearing two different dresses through the day and so the style had to suit both dresses as well. Provided with very precise information and our thoughts in emails going back and forth, I took it all in and on the day armed with all that information and in full control of the styling, I did my very best. I gave Jessica more than what she had wanted for her wedding day.


Days after the wedding, Jessica reassured me with, "I absolutely loved my hair, it was so stunning! I've attached a picture of it with my other dress and as you can see to suits it perfectly everyone was commenting on how beautiful it was so thank you very much. It even looked awesome the next day with the soft curls. Everyone's hair looked just as good at the end of the night as the start :) Thank you again! Xx"


Well what more can I say looking at the images below? An absolutely stunning bride! I was truly moved when she sent me these images below showing the hair styles we did for her 6 bridesmaids. And we never did a trial before hand!!!! And definitely worth the 5am start! The bride and her 6 bridesmaids had to be ready by 11:30 I hadn't had so much adrenaline in a while. I didn't even say goodbye to Clare Bryce- who worked her make up magic for Jessica and the girls on that day.


I hope you will enjoy these images by
Danielle Boxall photography
and love them as much as I do. XXXSheena